The Preacher asks for prayer and then gives a benediction to close out his letter of teaching. What a great display of what praying for each other looks like! We shouldn't be afraid to ask for prayer. God didn't intend for us to have to suffer alone. We should be bombarding heaven with prayers for our brothers and sisters in Christ. I don't know about you, but when someone asks me to pray for them, I feel honored and privileged. Too often we keep our suffering silent. Why is that? Are we ashamed we don't have it all figured out?
This benediction or blessing is so full of richness and truth. I can just imagine the Preacher extending his arms as he delivers this key address summing up the themes of his sermon: God is the God of peace; God's power is great; Jesus is our Shepherd and cares for us; God will give us what we need to accomplish his will; and we are to honor God to bring him glory.
Did one of these themes speak to your heart today? We are reminded it was the power of God that raised Jesus from the dead. Have you ever really just stopped to think about that kind of power? God's authority should wow us! And that same Holy Spirit power is available for you and me!
When we marvel at God's power, keep in mind God also shepherds us with protection and wants us close. When we live a spirit-filled life, we have also been promised our Shepherd Jesus will show us how to use what we have been given. Psalm 23 is ringing in my head. Jesus lets us rest, renews us, and guides us. He protects us and never lets us go. How can we show him our gratitude?
To honor God, it's my prayer every day that God will equip me with all I "need for doing his will." Every parent wants to be listened to, and God is just the same. The next important prayer we should be praying is for wisdom to know what God's will for us is. The only way we're going to know is to ask. Have confidence God will reveal himself to you, and then be ready to receive his answer.
Tune in to God's will by your devotion, praise, and expectation you'll receive clarity as to what God is calling us to do. Don't rush those quiet times. Don't fret over missed opportunities, rejoice there are more joyous moments ahead.
The Preacher also asks for God's blessing in another way. "May he produce in you, through the power of Jesus Christ, every good thing that is pleasing to him." It's a little intriguing to think that God stirs in us the desire to please him. I suppose he knew we were sinful, selfish creatures.
Take the words the Preacher left us in Hebrews to heart. There are some tough passages, and he wants us to "pay attention." This prayer for you says it all. "May God's grace be with you all." It's the ultimate theme of the book of Hebrews as well as the gospel message. Accept God's grace and live!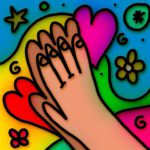 Let's pray. Father, I know you have created me for greatness and the best is yet to come. Use me to help others in this world see your goodness. Help me fall into your open arms and accept your grace and mercy. You have opened the way for us. Thank you for how you are cleansing my heart and refreshing my spirit every day. May you be glorified in all I say and do. In Jesus' name. Amen.