Did you notice how this text begins and ends with a reference to our faith leaders? Who comes to mind for you as that person who first shared their faith with you and taught you the truth of Scripture? Maybe it was a favorite Sunday School teacher. Maybe it was a friend in your college dorm. Maybe it was Jesus revealing himself to you! Isn't Jesus the best teacher of all?
When earthly leaders fail or get distracted, we can always trust Jesus. One of the gems in this text packs a powerful promise. "Jesus Christ is the same yesterday, today, and forever." We can rely on Jesus as the truth for our lives. All sorts of new age, spiritual type teachings pop up every day. The Preacher warns us to be careful of that.
The Preacher's first audience was attempting to transition from the old way of thinking to accepting how Jesus ushered in the new covenant promises and traditions. At first, the new ways must have been confusing, holding some people back from truly accepting the gift of grace Jesus offers his followers. The old ceremonial laws of sacrifice were obsolete along with food regulations. Do you have difficulty comprehending that Christians are nourished by grace?
The whole discussion on sacrifice outside the city walls is also a bit curious, but I loved the symbolic comparison. What did you make of this example? Since Jesus was crucified in an "unholy" place, outside the city walls, to make us holy, let us not be afraid to bear disgrace in this world. Jesus boldly went out and endured what he did for us. Do we have the same boldness to go out into the world and speak about our faith and allegiance to Jesus?
Maybe these words of the Preacher will help you feel bolder in your approach for evangelizing or serving others. "For this world is not our permanent home; we are looking forward to a home yet to come." That verse really resonates with me and gives me comfort. It's where I find my joy in these troubling times. It doesn't matter than I'm not "popular" in this world. People need Jesus, and I want to do my part to let them know!
As a response to the grace, shouldn't our reaction be to praise and worship such a loving and giving God? "Therefore, let us offer through Jesus a continual sacrifice of praise to God, proclaiming our allegiance to his name." Our text is brilliant to let us know how we can please God! In addition to praise, we can honor him by doing good and sharing with those in need. How are you enjoying those activities these days?
Take some time today to reflect on the grace you have been given. What is your response?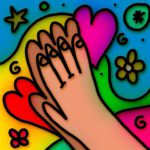 Let's pray. Father God, give me the boldness to proclaim you and your greatness no matter what. I want to live a life that pleases you. I pray for all the people who don't yet know about your life-giving grace. Open their eyes to see you. I pray the same for all who are lost and afraid. Use me, mold me, and make me more like you. In Jesus' name. Amen.