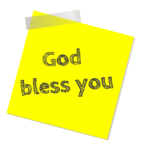 Sometimes God uses the unexpected, breaking tradition or appearance. We see that here as Jacob blesses Ephraim more than Manessah, the oldest. Traditionally, the firstborn would receive the greater blessing. Joseph tried to intervene to correct this, but Jacob did it intentionally. Apparently, he had "inside information" and wanted to bless the younger son more. Maybe he remembered his own experience.
God does use the unexpected for his purposes. We are in the Christmas season as I write this. The events of the Christmas story again remind us of God's economy and choosing the unlikely. Jesus, the King of Kings, was not born in a palace but a smelly stable. The first to hear the news of his birth were not wealthy diplomats but lowly shepherds.
God uses each of us common folk in ways we might not imagine possible.  We just need to get out of the way and let it happen. We all too often let doubt creep in. We deny ourselves a beautiful future when we put limits on God. He has such great plans for us. His plans may look different than the ones we have for ourselves, but that doesn't make them any less grand. In fact, we should see our calling as even more magnificent because it is from God.
I can't think of a better director, boss, facilitator, or leader to help me navigate my life. When we let God take control, that's when we see beautiful things unfold. When we stop worrying about the "how" and concern ourselves only with the "who" (God) we in a better place.
When Jacob blessed his grandsons, he was doing something he never imagined he would do in a million years. Yet God was faithful and brought this moment to life. We don't know what God has in store for us. That's why it's so important to be listening. We need to be still and wait for God.
In this holiday season or whatever busy time you are facing as you read this, remember not to give God your seconds. Make sure you make him the priority in your life. He is waiting patiently for each one of us to turn to him and be ready. What does God want you to do today? Have you asked him?

Let's pray. Lord, I thank you that you have chosen lowly me to be an instrument of your peace and grace. Thank you for how you have gifted me to serve your people, especially those who don't know you yet. Open my eyes to see them more clearly. Help me to set aside my agenda and be ready to be your servant. Show me the plan you have for me and open up the doors so I can execute!  In Jesus' name. Amen.