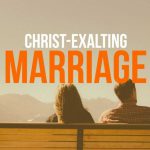 I realize some of you reading this may not be married now, ever, or any more, but I would guess you know married couples. It is a good reminder for us all how we should treat each other. With respect and love.
I've personally had struggle with this passage over the years because of a troubled first marriage. Without reliving all of that, suffice it to say that sometimes people misunderstand what it means to submit and to love as Paul teaches. When we hear that wives are to "submit," it's not as in bondage or self-sacrifice. I believe Paul is telling us to present ourselves for approval. As wives, we want to be pleasing to our husbands. 
We are to submit to our husbands as the church submits to Christ.  As we want to do our best and be holy before God, we should have a similar heart and desire to be our best for our husbands. To me, that's what it means to submit.
As for the guys,  husbands have a tough one. They have to love their wives as Christ loved the church. Jesus gave up his life for us, that is some intense love. As wives,  we should feel cherished and loved by our husbands. We should know without a doubt that we come first (well, second only to God himself). For if husbands are to love as Jesus did, that love must be perfect and without blemish.
If you're a guy/husband – do you find it hard to love this deeply? If you're a gal/wife, do you feel like you are loved with crazy love? If we feel this kind of love, it is almost a no-brainer to treat our husbands with the awe and respect we are supposed to when we "submit." This spiritual love is a beautiful circle created by God for us in Christian marriage.
It saddens the heart of God to see so many families in dysfunction. There are many reasons why this is happening. The biggest – we are straying too far from the heart of God. His prescription for spiritual living and loving is clear, and yet we try to abuse it, avoid it, and recreate it.
We need to pray for couples. In the coming days, we'll see how spiritual living will affect others, besides just husbands and wives. For today, give God thanks for how he is working in your life to make you a better spouse, prepare you to be a better spouse, or how he blessed you with the perfect spouse!

Let's pray. Lord, you have given us such a beautiful example to follow. The love between Jesus and the church and the church and you! The circle of love makes sense and should set us up for magnificent relationships. Forgive us when differences try to separate, when we abuse these truths, or when we forget how important you are to our relationships. May I always put you first, looking for your direction in my life. In Jesus' name. Amen.