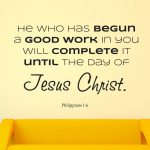 Paul is clearly a fan of the people of Philippi who started following Christ. If you want to read about how Paul came to know and love them, you can find a recounting of his first encounter in Acts 16. You'll recall the first convert was a wealthy merchant woman named Lydia.
Paul is thankful for these people and encourages them to keep on doing what they are doing. Verse 6 says, "And I am certain that God, who began the good work within you, will continue his work until it is finally finished on the day when Christ Jesus returns." How many times have we heard these very words and been comforted or empowered?
God is at work within us giving us the power we need. We often fall short when we forget to call upon that power. We see so many superheros in our day as movies like Batman, Captain America, the Power Rangers, to name a few. What they have in common is some special gift that helps them save the world. We all have a super power, God, and with his help, we, too, can change the world.
Think about that for a moment. How might God's power in you change the world?
Paul's prayer for them in verses 9-11 is so profound. It is a prayer we we should call upon today. It has probably been years since the church began there, and without proper nurture and care, doubt can set in. We've all seen that over time. Maybe we've even experienced it ourselves.
Remember when you first knew Jesus on a personal level as your Savior. Maybe it was a moment in time that will forever be etched in your memory. Perhaps it was a progression over time or something you have always believed. Suffice it to say that even a rock solid faith can be shaken by doubts, trials, and busyness. Paul saw the importance of encouragement. He didn't want his friends in Philippi to fall prey to these distractions. The same is true for us today.

Let's pray. Using the words of Paul, I pray that your love will overflow more and more, and that you will keep on growing in knowledge and understanding. For I want you to understand what really matters, so that you may live pure and blameless lives until the day of Christ's return. May you always be filled with the fruit of your salvation—the righteous character produced in your life by Jesus Christ—for this will bring much glory and praise to God. In Jesus' name. Amen.