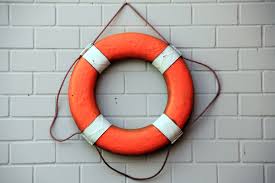 What a great vision of being rescued by God the Father on high! I had to read it a couple times just to soak in all the great beauty of God's intentions for David, His people, and for us. While this is part of David's song, this same God rescues us on a regular basis. How do we respond to that grace and mercy?
For David, his gift of song and music was his go-to response. This vision starts with seeing an angry God who is coming to earth. The symbolic language refers to a bold and public display of God's power.
We soon realize God isn't angry with David, but rather he is coming fiercely in answer to the prayers of his people. God rebukes. God delivers. "He reached down from heaven and rescued me; he drew me out of deep waters." Whatever was going on for David and the Israelites at the time this was written required God's immediate rescue. Are you feeling like you are stuck in "deep waters?"
There is no question. God showed up. What we see is a "theophany," that is, God appearing suddenly in an observable form. This could also be seen as a divine revelation that David is sharing in this poem.
What starts off as a bit scary, turns into something beautiful. When we picture God swooping into our lives, in the midst of our own chaos, peace remains. Even if we are not experiencing chaos in our own lives, we can often live in the fear or dread that some disaster will befall us. Clinging to this image of God's rescue may be exactly what we need.
What if we lived our lives knowing that any threat or danger would be removed by God? We live after the installment of the New Covenant. That is, we know that Jesus has come as our rescue. God sent his one and only son as a means of rescuing a people lost in sin and despair.
We don't have to fear. We are being rescued today because Jesus has paid the price for our sins. Why? John 3:16 says, "For this is how God loved the world: He gave his one and only Son, so that everyone who believes in him will not perish but have eternal life."
Our text affirms it – "he rescued me because he delights in me." God loves us and delights in us. Considering that, how do we respond to God? For me, it's worship. I will worship in good times and in bad. When I'm having an especially low energy day, I turn to worship and prayer. What is it for you? When and how do you feel God's rescue?

Let's pray …
Lord, words cannot express how I delight in you and how you love me. I continue to be amazed at the timing of your word and how your messages fill my heart. Thank you for how you have rescued me time and again not only from myself and wrong choices but from evil and harm. May my life be a living sacrifice to your great power. In Jesus' name. Amen.