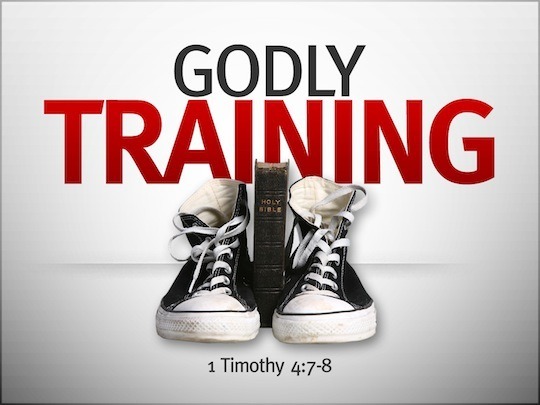 Don't you love when you are given parameters and expectations for a task? Then you have something to strive for, to succeed at, and the goal is easily set before you. Our task then, is to be effective followers of Jesus.
These verses in 1 Timothy have given us a glimpse of what that should look like. All point back to being a servant, doing all we can to be more like Jesus, and helping others around us to do the same.
Paul is encouraging young Timothy here (and us) to be faithful, to be a good example, and to teach others to act likewise. These are golden nuggets of truth to help us in all of our relationships, both in and out of a church setting:
Do not waste time arguing over godless ideas
Physical training is good, but training for godliness is much better
Focus on reading the Scriptures
Do not neglect the spiritual gift you received
Stay true to what is right
Those are some challenging assignments, but Paul is setting out the expectation for Timothy to help him succeed.   Look at each of the points above. Take a moment to reflect on each one separately, taking time to really think through how you can do a better job of this.  
Can you think of times, for example, when arguments got out of hand that were about something frivolous in the big picture?  Or maybe you spend too much time at the gym, which is good, but not enough time in the Scriptures? Take time to thank God for your gifting, and ask, "am I using what God gave me to help others and advance the kingdom of God?"
I'm feeling encouraged and renewed by the expectations Paul has set forth here. I certainly want to spend eternity with Jesus, and I want my loved ones to be there with me.

Let's pray. Lord, pour out your grace on me today, as I feel like I am struggling to be the best I can be for you. Forgive me when the busyness of life invades my time with you. Help my life as a Christian be a good example for those around me, that they may see you in me. In Jesus' name. Amen.