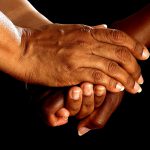 This may seem like a short reading, but it's powerful. Peter is closing his letter in a style common for the day. He is sending greetings from those closest to him, Silas and Mark, and the sister congregation. I understand that his reference to Babylon  really refers to Rome. I can't explain why he just didn't say Rome, but that is probably something related to the time of writing.
Encouragement. We all need it from time to time. Like every day, don't we? There is always some obstacle, challenge, question, or to-do list item that requires us to want a little push or nudge. When it comes to matters of faith, however, staying strong and focused is always something we need to keep in perspective. 
Some people are better encouragers than others. It is a gift to be able to see a need and to be able to speak a word of encouragement into it. I have read books about the benefits to men if they have a supportive, encouraging wife who prays for them. A lot of times, we can encourage people just by telling them we're praying for them. There is a peace in knowing that.
There are so many voices competing for our attention. When those voices come from a trusted source, we are more likely to pay attention. Who are the people in your life counting on you for encouragement? Have you been in touch with them lately? Think of others in your circle of friends and acquaintances that are struggling or lost. You know how life changing an encouraging word can be. This book has been full of lots of hope-giving counsel.
God's grace is another one of those beautiful gifts we often take for granted. As followers of Christ, we are benefactors of that free gift of grace. We didn't have to do anything to earn it, and we certainly don't deserve it. We are sinful creatures that fall into unhealthy patterns way too easy. Out of respect, if nothing else, for our Heavenly Father who showers us with grace, we should live our lives as he intends.
Take a moment to think about your life and how you are reflecting God in your words and actions.
Remember that you are covered in God's grace. His grace is sufficient. We need not worry. "Stand firm in this grace."

Let's pray. Father, I thank you for sending encouraging words today. I know you have gifted me to encourage others around me, and I pray you will equip me with that honor by allowing me to see their needs. Watch over our plans as we want to be smack dab in the middle of your will. Steer our course so we don't get off track. I need your wisdom for making decisions. Thank you for how you rescue me with your grace-filled solutions. May I never take them for granted. In Jesus' name. Amen.
It only takes a second - Please follow and like us: