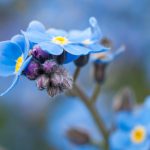 Who do you live for? When you wake up each morning, do you ever start with a prayer of thanks for the new day? Do you give God a thumbs up and ask him to help you get through another day? This passage gives us a picture of who we should be as followers of Christ.
What are the highlights here? We must have an attitude like Christ and be ready to suffer. And we should be anxious to do the will of God. Period. So bring it on  – I'm ready to battle. I have the best armor and protection possible. If I suffer, it's okay because of my strong faith and trust in Jesus as my Lord and Savior. I know who I belong to and where my final destination lies.
However, the evil of the world is pretty strong and deceptive. Being devoted like this is not a light commitment. We should really take time to think it through. If we are faced with a decision, a life or death decision, will we truly stand strong and proclaim Jesus as Lord?
It may be easy for us to say as we sit in the comfort of our favorite chair, but looking into the barrel of a gun may be a different story. Don't linger picturing yourself in harm's way, but do think about what it means to be "ready to suffer", being prepared with an attitude like Christ.
I'm not a fan of the word "anxious" as used in this passage. But it does give you a sense of how important, or "urgent" it should be on our minds to obey the will of God. It's not like we should be saying, "I'll do my thing today, God, and yours tomorrow." It is a "now" kind of behavior. It's like we're yearning to do the will of God.
The sooner we can stop bothering to worry about what other people think about us, the better. We only need to please God. If we are made fun of or lose friends because we choose the "high road" then so be it. We have to be okay with that. Are you okay with that?
Salvation is not a given although it is available to all who believe. It is a gift we must accept. We need to help others, those we love, be ready to stand before God and receive their judgment. Will they have aspired to the will of God for their lives? Do they know that is a  good thing to do? The Good News is for all. It's our job to make sure we help tell them.

Let's pray. Father God, there are so many people lost in this world. They don't know you or your wonderful love for them. They know something is missing, but they don't know what it is. Bring those people to me that need to hear the Good News. Open my mouth to tell them your truth the way they need to hear it to accept it. Help me to see the moments you have prepared for this. I am ready to stand up for you. May my life reflect you in all I say and do. In Jesus' name. Amen.
It only takes a second - Please follow and like us: