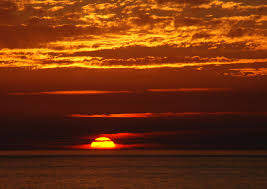 Many young girls dream of being a princess one day so they can have their fairy tale "happily ever after" ending. Thanks Cinderella! As I read Paul's words, I realize that as a follower of Jesus I will get my happy ending (no fairy godmothers required). As for being a princess, I am a daughter of the King after all!
By referring to Jesus as King Jesus, we can easily relate to our notion of seeking his kingdom. That's been our final theme as we've been Discovering the Bible Together. Are you starting to get a clearer picture of God's kingdom?
For us, it all starts with the resurrection. Jesus did the unbelievable. While God has been reigning in his kingdom all along, Jesus brought the kingdom with him and exposed it to us when he was a man. As I understand it, Jesus' resurrection raised him from death to live and reign forever. It was a victory over death as well as the powers of the world.
It's good for us to remember the resurrection. Without it our faith has no meaning. Paul says it so eloquently. "And if Christ has not been raised, then your faith is useless and you are still guilty of your sins. In that case, all who have died believing in Christ are lost! And if our hope in Christ is only for this life, we are more to be pitied than anyone in the world." I don't feel lost. I don't want anyone's pity either. Do you? In fact, the more time I spend in God's word, the more confident I am in my faith. I truly believe Christ was raised from the dead, just as he said.
Jesus continues to reign on high and in our hearts. Our ultimate destiny is to join Jesus on our own resurrection day. Until that day, we seek his kingdom and do our best to live lives that are pleasing to God.
"For Christ must reign until he humbles all his enemies beneath his feet. And the last enemy to be destroyed is death." When death is no more, the kingdom will be fully revealed, and we will see Jesus. What a destiny that awaits us!
As my husband and I have been on our entrepreneurial journey in retirement, we've most recently aligned with other "kingdom focused" businesses. There are plenty of "secular" businesses out there that focus on wealth creation, too, but their purpose is not to further or enhance the kingdom. As a "kingdom" business, we seek to do business in a way that honors God. The wealth we create will in turn benefit his kingdom in the way he directs us. It's exhilarating to be used by God isn't it?
When we remember that everything that exists belongs to God, it's easier to envision ourselves living in his kingdom. I want to be a good steward of all the gifts and blessings God gives me each day. In our business, I want to make sure that Biblical principles guide us in all our interactions.
How does it make you feel to know you're living in God's kingdom? How do your life, your business, and/or your relationships honor God?

Let's pray. I look forward to the day when I reach my ultimate destiny with you. Until your kingdom is fully revealed, help me be focused on the things that matter and glorify you in all I say and do. In Jesus' name. Amen.