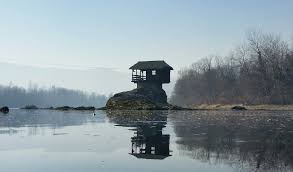 Jesus concludes his Sermon on the Mount with these words of wisdom. The people were amazed. We should be amazed, even if we've heard this time and again. The messages and truth that Jesus has shared with us over the last two chapters in Matthew's gospel are golden. Jesus puts in a nutshell what his obedient followers should do. He's made it clear.
Our future is up to us. Will we listen to Jesus and have a firm foundation on which to build our lives? Or will we return to life as we knew it, going through the motions, scraping by, not paying much attention to what Jesus has set out for us? The Holy Spirit is stirring inside us, will we pay attention?
Jesus uses very simple examples of our choices. We can listen to him and build our lives on a solid, sturdy foundation, or we can listen to the world and be washed away when the struggles and tempests of life come. We know those hard times will come. We may have already weathered a few during our life already.
If you have been tossed about before, were you held securely in Jesus' arms or floundering about wondering if you were going to make it? How did that feel? If you were lost then, you now know how to be prepared for the next of life's mishaps, roadblocks, or deadends. You have been equipped with wisdom from above having read and reflected on these two chapters of Matthew. Jesus was speaking right to your heart.
But, we all know there is a huge difference between hearing and doing. Jesus has been lovingly preparing us for a way of life. He's not trying to frighten us or belittle us. The wise man will listen and put into practice, and the foolish man will hear and do nothing. Knowledge must lead to action or the knowledge is worthless.
How are you going to respond to Jesus' words?

Let's pray. Lord, I'm in. I want to build my life on the solid rock, your word, and your truth. I want to be immersed in your truth so that there is no question whose I am. I know there are plenty of people, even people whom I love, who are not on the same path. I pray you will send your messengers to them to help them get back on track if my efforts go unheard. You are great and mighty, and I can rest in your power to make it through each day. In Jesus' name. Amen.
It only takes a second - Please follow and like us: