God's rest is meant to be a gift! This is especially good news if you are one of those people (like me) who have a hard time sitting still. You want to be doing something, always keeping your mind or body in motion. The gift of rest is meant to slow us down – spend more time in God's presence. The Preacher even says we ought to "tremble with fear that some of you might fail to experience it."
This rest is so much more than the Sabbath rest mentioned here briefly. Do you find it difficult to cram everything you need to do into six days so that you can have your Sabbath on the seventh day? Having Sabbath rest is the ideal God intends for us. Consider how God offers us that day of rest as a gracious gift pointing to our ultimate rest in God's presence. But often we fall short. That's probably why when we read about Jesus healing on the Sabbath, for example, we have a hard time fathoming the seriousness of his actions.
After reading this passage did you feel more convicted to accept God's gift of rest or to keep pushing through? Are you feeling weary? This passage makes me think of Jesus' invitation to come in Matthew 11:28: "Come to me, all of you who are weary and carry heavy burdens, and I will give you rest." Next, I picture myself sitting beside Jesus, resting my head on his shoulder.
Simply at the thought of being in Jesus' presence like that sent a tingle of peace and contentment through me. Imagine what it will be like to do it for real someday! That's the ultimate fulfillment of the rest the Preacher is talking about. I want to be with Jesus when it's my turn! Until then, I'll accept the gift of rest for the here and now and try to do a better job of being still in God's presence, receiving his mercy.
Is this a new way of thinking about rest for you? Maybe it's the precise message you need to be hearing right now. Whether your life is chaotic or boring, resting in God is always the perfect prescription straight from Him. Do you trust God?
We get to know God better by spending time with him. The bottom line to this gift of rest is that God wants to spend time with us! Maybe rest is the ultimate explanation of what it's like to have "Quality Time" as your love language. When we intentionally spend time with God, not only do we feel blessed, but God is receiving what he yearns for.
Can you do a better job of spending time with God? Are you ready to accept his gift of rest. You will enjoy precious time alone with God when you are able to shut out the noise of the world and worries of the day, and just be with God. Enjoy!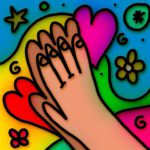 Let's pray. Lord forgive me for all the times I've missed out on spending time with you. Forgive my selfish heart for being busy with unimportant things. As always, thank you for reminders in your Word to be obedient to you. I trust you know what's best for me. Help me to do a better job of shutting down all my thoughts and being open to hearing what you want to say to me. In Jesus' name. Amen.