What a wake-up call! The Preacher doesn't want these new believers (or us) to miss out on God's promises. He uses the example of Esau as our wake-up call. "Work at living in peace with everyone, and work at living a holy life, for those who are not holy will not see the Lord." Can you imagine not seeing God face to face someday?
Beyond our eternal home, the message to be at peace with others is pretty timely. It seems we can't even scroll through social media these days without seeing all sorts of outlandish comments and hurtful communication. Who does that? We can all fall prey to one of the biggest sins in my book, gossip. We need to be focusing on living a "holy" life instead.
The Preacher is reminding us of our inheritance here as he paints the picture of two mountains. We don't face a physical mountain like Moses, complete with flaming fire, trumpet blasts, and God's thundering voice. This was Mount Sinai, which in this context represents the old covenant. For us living in the new covenant, our mountain is welcoming and joyful, "the city of the living God, the heavenly Jerusalem." God is there with "righteous ones in heaven who have now been made perfect."
Picturing ourselves on that mountain with God may seem like a distant dream. Why wait? It doesn't hurt to start imagining right now what the presence of God will be like. Have you ever tried to imagine heaven? It's so much fun to imagine what it looks like, what you'll see, who you'll meet, even what it smells like. The Preacher is illustrating Mt. Zion for us, like a good travel agent, so we can imagine our lives being transformed even before it happens.
What do you see there? There will be thousands of angels praising and worshiping. God is there! Jesus is there! Wisdom will be fully revealed. Our destination is this mountain which cannot be moved. The road may be less traveled than that to Mt. Sinai, but I opt for joy in the Lord.
Here's what the Preacher suggests our response to God should be. Unshakable like this. "Since we are receiving a Kingdom that is unshakable, let us be thankful and please God by worshiping him with holy fear and awe." I love the wisdom nuggets the Bible uncovers for us. God is pleased by our worship!
Take some time today to imagine yourself in the presence of God. Let his consuming fire ignite you to live for him like never before.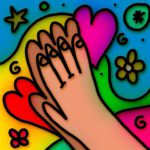 Let's pray. Lord, I come to you in awe once again because of your mighty power and love and giving thanks for your provision and mercy. Sprinkled with Jesus' blood offered for my forgiveness, may I be worthy of you and able to act in the ways you want me to act. Purify me with your holy fire. Help me to clearly see your path for me. Guide each step drawing me closer to you. In Jesus' name. Amen.