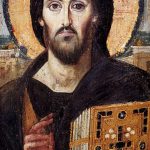 The book of Hebrews has several main themes, and one is that Jesus Christ is superior to everyone and everything. We will see descriptions showing how Jesus fulfills prophecy and the promises of God. This book was written to give encouragement to the Jewish Christians, likely before the fall of the temple in 70 AD. Because Jews as a people hadn't all accepted Jesus as their Messiah, the Jewish Christians needed the assurance so they didn't fall back into their old ways.
We also need encouragement in this dark world where there are so many forces of evil at work to try and lure us away from our faith. People say, I believe in God. Well, the demons believe in God. It is so much more than that. We need to cling to a faith in our superior king Jesus. Everything about Jesus reflects his Father, our heavenly Father. 
Jesus is the Son of God. God never called one of the angels his "son." That is reserved for Jesus. The Jesus we see in the book of Hebrews is drawn from eyewitness accounts of Jesus' life of ministry. While the authorship of this Book is never claimed, the author knew Paul well and was a friend of Timothy. There was a band of early Christian leaders that God used to give us a strong foundation upon which to learn and grow.
The same power that sustains the universe, and created it for that matter, is a power we have access to through Jesus. We have access to the Father because of what Jesus did. That was not the case before. The people had to go through priests. Jesus' death opened the door to God's throne for us to come. We can pray to God. We can call Jesus our friend.
At the thought of the promise of salvation fulfilled, how can we help but be humbled and bow down? How can we help but worship our king, he who is superior over all things?
How is your relationship with God? Do you trust him with your life? Do you know without a doubt that he is there for you 24/7? Stand strong as we walk through the book of Hebrews together.

Let's pray. Heavenly Father, I give you thanks for sending your Son. What he has done for us is beyond comprehension. Help me to truly grasp the immensity of your love for me. You are 3 in 1, Father, Spirit, Son, and I belong to you. What a peace that passes understanding flows through me at the thought. Use me, God, to be a light in this dark world. Give me the words to touch the hearts of those who read this devotional. Guide my steps and bring people to me who need you. In Jesus' name. Amen.