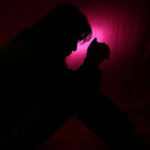 We're moving through the book of Hebrews and there is a lot of emphasis on Jesus being our high priest. His sacrifice was once and done. He will not have to die again. Remember, some of the young Christians had been Jews just moments before. Their heritage had been a yearly sacrifice. Each year you'd be reminded of your sins as the sacrifices were made and the high priest entered the Most Holy Place.
You can't just change a person's experience or understanding of forgiveness overnight. This is a process. It may be hard for us, too, to imagine how the shedding of Jesus' blood could be the perfect sacrifice. There are a lot of us sinners in the world now and across the span of time. There will be many more in the days ahead. We, too, need to wrap our head around the fact that God came to live and die. His death redeemed us. 
We can rely on that. The blood of animals can't bring forgiveness, but the love of our Savior can. He loved us so much that he died for us. "For by that one offering he forever made perfect those who are being made holy." Take a moment to just let that truth sink in and thank Him.
I love what the Holy Spirit testifies, "I will never again remember their sins and lawless deeds."  The song Undo by Rush of Fools (LISTEN HERE) is one of my favorites when it comes to forgiveness. God forgives us once for our sin. I always imagine he has a big eraser. If he forgets, we should, too. We need to let go of the guilt and shame that result from our sinfulness. We are forgiven and free.
We can come before God through Jesus at any time. While his forgiveness is once and done, our sinfulness continues. We are human. But we can work on being more holy. We can work on being more like Jesus. To do that, we need to get to know him on a deeper level. I find myself asking at times, "What would Jesus do?" That used to be such a super popular phrase – I had bracelets to remind me. What do you need to remind you to be more connected and to lay your sins at Jesus' feet?

Let's pray. You never cease to amaze me, God, at how you work in this world. I am humbled that you, the Ruler of the universe and all that it contains, are also part of my life. You care for me and want the best for me. You forgive me when I ask and then forget those sins. Help me to let go of the hurts and failures that hold me back. Don't let my sinful nature control me. May I break free and be more like Jesus. In His name, I pray. Amen.