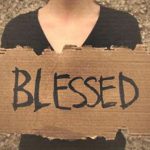 Today is the day Jacob meets the Pharaoh. It would be like meeting the President for those in the United States. Pharaoh was a big deal in terms of power and prestige. His control spread over the entire region. That would also mean Joseph was a pretty big deal in the land as well. What an accomplishment for a Hebrew outsider. His family must be so proud. Their destiny would have looked a lot different had God not used Joseph in this way.
Now we see Jacob blessing the Pharaoh. I suppose that's what we do. We pray for our leaders and want to support them in any way we can. Jacob gave Pharaoh two blessings. For Jacob, Pharaoh not only represented a man of authority but a man who had taken care of his son. All these years, Jacob had believed his son to be dead. Now he finds out he had been in Egypt. Pharaoh had recognized how special Joseph was and rewarded him accordingly.
What set Joseph apart? His faith in God. Even Pharaoh recognized that in Joseph and gave credit where it was due. Even when Joseph's life looked drear (remember those years in prison), he remained steadfast to God. That's a good reminder for us. We may not have lives full of sunshine and roses every moment. What do we do in the shadows of sadness? Do we abandon God? He certainly never abandons us.
Joseph had to also be happy. He was reunited with his family at last. His father and brothers would now be taken care of by him at the request/command of Pharaoh. That's a pretty high honor you must admit. Don't you wish that you had someone looking out for you like this? We do. Our heavenly father is looking out for us. When we are faithful we, too, can reap the benefits of living a faithful life.
Even when our plans go awry, we have a God who loves us. He is ready to give us a second chance. If only we had followed God's wisdom instead of our own we might say. We need to be careful not to judge others, but to love them. We should never feel superior to anyone. In God's eyes, we are all equal, and he loves us each the same. We are all his favorite (taken from "The Shack").
So how does this speak to you today? How are you behaving that sets you apart from the rest? Do people recognize you as a woman/man of God? I know for certain I want them to ask, "what's different about her?" The answer, "Jesus lives in my heart and guides me, giving me joy that just overflows." What's your story?

Let's pray. Father God, I thank you for this time with you today. Each moment I spend with you is special and refreshing. Wash away my sadness and feelings of doubt. You have made me strong and mighty. With you, inside me, I am capable of more than I could ever imagine. Grant me your peace. May I make it another beautiful day in your world. In Jesus' name. Amen.