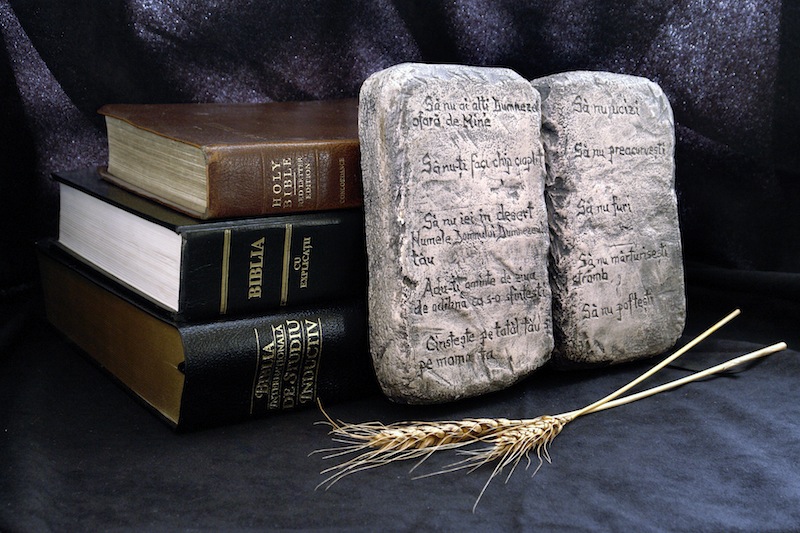 There are many gems in today's reading. Of course, we recognize right off the 10 Commandments. We'll look at that here in just a bit. First of all, I want to make sure you don't miss something I almost missed. Verses 2-4 say, "The Lord our God made a covenant with us at Mount Sinai. The Lord did not make this covenant with our ancestors, but with all of us who are alive today. At the mountain the Lord spoke to you face to face from the heart of the fire." What's our take-away?
That Moses wanted to make it clear to the people he was talking to (and that includes us today) that God gave this covenant to "us." Understand that the people he was addressing were, for the most part, not the ones who stood at the base of the mountain witnessing God first hand. Those people have already died, and it is their offspring listening to Moses now. It would be easy for them to say, those laws were given to "them," not us. The law from God was given to them, and to us, and we are then given the responsibility to keep the commandments and pass them on to the next generation as if given directly to us. Cool huh?
This whole book of Deuteronomy is a beautiful gift to those about to enter the Promised Land. We get a front row seat to listen to Moses' parting words as he empowers the people, including Joshua who will be their new leader, to follow and obey God. Moses is setting the stage by reminding the people what God expects from them. The Ten Commandments are all beautifully designed to help us in our relationship with God and with others.
I read an interesting observation to take into account here. Remember the "law," starts with the Ten Commandments, to be followed by over 600 more laws — as enumerated by the Rabbis — just a little foreshadow there. We will not see any mention of salvation as we understand it. That was not the function of the law. In other words, salvation does not come from obeying the law. We learn later from Jesus the only path to salvation is in him. But that does not make the law worthless. It makes it all the more valuable to know how God wants us to live.
Each Commandment has its purpose. We recently talked about idols. You'll see that this commandment trickles down the sinfulness to future generations if we should be the one to break this commandment. When we think about how our actions might affect our loved ones, our grandchildren and their children, it makes it a little more potent, doesn't it?
I also appreciate how we are reminded to keep the Sabbath holy. God ordained it, therefore it is holy. We are to abide in God as we rest and offer the same to our employees and animals. It is a gift from God to a people that were not used to having time to rest and spend time with God before.
Take some time to just imagine how it felt to be standing on the edge of the promised land. How does it feel to imagine being in the presence of God's holy fire, hear his voice clearly, and know he was speaking to you?

Let's pray. Lord, I am overcome with awe and wonder and how you have interacted with your people, us. Thank you for caring about us that much, loving us despite our wayward hearts. Help me to focus on you and how there is only victory where you are. Shine your light in this dark world so that others can find you. Use me to ignite the flame. In Jesus' name. Amen.