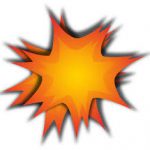 Frightening. Panic is setting in. Paul takes command again. I can't even imagine the fear that was coursing through the veins of those on that ship. I'm not sure I've ever experienced fear like that. I've had my share of adversity but never a shipwreck. That's when circumstances are really out of your control. The men on the ship tried to avoid the inevitable.
We often try to throw out anchors in life to keep ourselves from sinking. We grasp at straws to avoid the inevitable. Getting older. It's inevitable. I have spent a lot of time in nursing homes this past week, and seen a lot of old people. Sad old people. Their joy seemed to have vanished. I was sad.
We need to hold on to the things that matter. Our faith, for example. No matter what happens in life, God's love never changes. His promises are always true. We can always rely on him. That is where we get our joy.
But we try to control what we can, and then some. There is so much focus these days on staying fit, eating healthy, getting good rest. That just makes sense to me. We should be taking good care of our bodies out of respect for our creator. Yet, sometimes I think we do so because we are more concerned about what people think of us. I've witnessed how keeping up appearances can be exhausting. If we are consumed with what others think of us, we are many times missing out on so many beautiful experiences.
Paul had the assurance of his safety. We can have assurance, too. We don't need to panic when things don't go just the way we want. There is a much bigger picture to focus on. Romans 8:28 should give us great comfort. "And we know that in all things God works for the good of those who love him, who have been called according to his purpose." 
If we could only be focused on God's purpose for us and not all of the other stuff that crowds our head. I really think this is the message I needed to hear today. Simplify. Trust. God's got this.

Let's pray. Lord forgive me when I get wrapped up in worrying about the small stuff. I know you've got it all worked out, and your solution is better than I can imagine. I need a little more strength than normal these days, and I thank you that I have it. In Jesus' name. Amen.