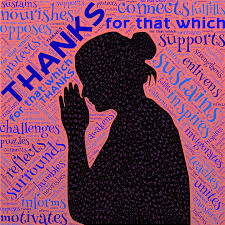 Did you know that someone is praying for you simply by thanking God for you? We may never know who those people are. And that's okay! Paul wanted his readers to know that they were appreciated. There is no greater honor than for someone to tell you, "Hey, I thank God for you!"
In turn, we are probably thanking God for those people in our lives who have made a difference in some way. Maybe it's the Sunday school teacher you had as a kid, or the neighbor down the street who brought your lost dog back to you, or your very own children who bring you joy every day. The list is endless when you get started. How often do we actually take time to thank God for these people and say a prayer of protection for them?
God was establishing a strong bond between Paul and his readers. Paul is making sure that not only do they realize they are precious, but that they, too, are called. "With all these things in mind, dear brothers and sisters, stand firm and keep a strong grip on the teaching we passed on to you both in person and by letter." The call to stand firm on the teaching speaks volumes in terms of the persecution they are likely facing as well as the false teachers that will try to get them off track.
The same is true for us today. There is so much bad information floating around the internet. How can we know what is true and untrue? For one thing, we can put it to the Bible test. Does God's Word support it, squash it, or be silent to it? What do our trusted Christian friends and leaders have to say?
We have heard the Good News. How are we responding to what Jesus has done for us? "He called you to salvation when we told you the Good News; now you can share in the glory of our Lord Jesus Christ." Isn't it amazing that we can share in the glory of Christ? That is certainly something to be thankful for. As we give thanks for our friends, family, and even acquaintances, we must not forget to give our thanks to Jesus for his gift of grace.
Who are you without Jesus? Think about that for a minute. What role does Jesus play in your life? Is he the backstage manager, or is he the leading man? Take some time today to quietly sit with Jesus and reflect on how he is transforming your life.

Let's pray … Jesus, my Lord, I am overflowing with thanksgiving for what you have done for me. I give you my heart, my life. Speak what is true. I am listening, Lord. May your light shine brightly through me so that others can see you. Help me stand firm, grasping onto your promise of salvation. In Jesus' name. Amen.