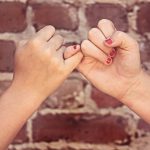 Today's reading is a little more "duty" focused than usual. When we remember what God has done for us, and the promises he has made, we can't help but want to please him. Right? Most of us, anyway, most of the time, at least.
If we are brutally honest with ourselves, as we should be, we need to realize that we aren't perfect. Sometimes we forget we are sinful beings. Sometimes we forget how much we need a Savior. Sometimes it takes passages like this to remind us how we should be living our lives in response to God's promises and provisions.
Let's take a look at the progression here. We start by supplementing our faith with a generous provision of moral excellence, then knowledge, then self-control, then patient endurance, then godliness, then brotherly love, and then love for everyone. I suppose it makes sense that we can't start out loving everybody – many are unlovable. Where are you along the progression – stuck in gaining more knowledge, perhaps working on patience? Yet all the while working toward Jesus' second commandment – to love one another.
We need to take on these attributes and work to be more like Jesus not because of something we'll get. If the latter, we miss the whole point. We must be more Christlike because we yearn to be more like him, because we are followers who listen to his voice, because we are grateful believers.
When we didn't know God's promises and how he has rescued us, we were stuck in our sinful nature and blissfully unaware. To remain in that place once cleansed and renewed would be like putting dirty, smelly clothes back on a freshly showered body. We never want to forget what God has done for us. We never want to be so short-sighted to look past his promises and provisions sitting right before our eyes. We want to move closer to him and not back in the pit alone.
The writer of today's reading warns, "work hard to prove that you really are among those God has called and chosen. Do these things, and you will never fall away." We wouldn't have such a clear instruction if it wasn't likely to be needed. I am certain the writer must have had first-hand experience with falling away and getting back on track. It's not hard to do (fall away) but getting back on track is certainly never easy.
People fall away every day. We need to search for those people. It's our "job" to gently remind them of the truth we rely on and the promises of God that will get them through each day. Be a friend. Share your brotherly love with everyone you meet. Not ready to do that — work through the steps above, and accept God's promises for your life.

Let's pray. Father God, I give you thanks for this reminder today. I know that my future is held securely in your hands. You have paid the price for my sinful heart. I come to you with gratitude and praise, overwhelmed by your mercy. May I use my overflowing heart to reach others needing to hear from you. Continue to build me up so I can build you into others. In Jesus' name. Amen.