If you're ready to build an army of affiliates to help promote your business, the 3-C Method has proven itself over and over again. And then some! To have the best online affiliate program, you need loyal affiliates who will promote you any time. How do you build that trust and create such a tribe? This article will reveal the 3-C Method and also give you concrete examples you can use right away to build a successful affiliate program. Whether you're a "newbie" affiliate promoter or a seasoned professional, you will not walk away empty-handed. Keep reading!
The 3-C Method will not only nurture your affiliates, but it will make them fall in love with you. You will be on your way to having one of the best online affiliate programs out there. The three components are:
Contest Communication Coaching
Let's dive right in.
CONTEST
Everyone loves to be a winner. There is great incentive when you offer prizes and set expectations. If you've been struggling to have affiliates engage and do what you want, perhaps bringing some fun into the mix will be just the solution you've been searching for.
Try something like this…
To build a successful affiliate program, offer a minimum prize in exchange for something that is really easy to achieve. (Example: for 3 sales, get access to the course for free).
If you've been at this for a while and already use prizes, up your game! A little creativity will go a long way! Think about what would motivate your affiliates. Not sure? What would motivate you to be more involved? Do that.
Remember that the best prizes are experiential. Create an experience or something they wouldn't buy for themselves. Tech gadgets work well, and who doesn't love a mastermind at a luxury resort?
Or this…
Offer random drawings for prizes, and entries can be won by doing something in particular. (Example: for 10 registrants to the launch event they will receive one entry to the prize. Here's a "newbie" option, something that is within their control would be: those who send 10 emails to their list will receive one entry)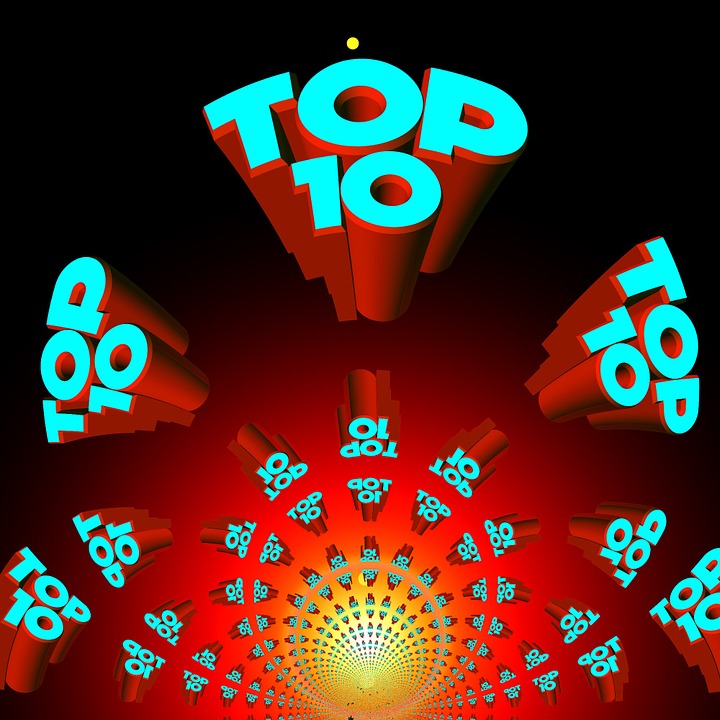 People love to see themselves on leaderboards, so a great tip here is to have DEEP LEADERBOARDS.
The best online affiliate programs go beyond using only the top 10 affiliates (provided more than 10 affiliate are promoting at one time). I've seen leaderboards with the top 39! Maybe there are only 40 affiliates – so that means nearly all will see themselves on a leaderboard.
There is something prestigious about seeing your name on a leaderboard. If you're #14, you're going to want to push yourself a little harder to get in the top 10. If you see two people who ae neck and neck near the top, you can encourage them to have a contest between them. Leaderboards open up a fun way to be competitive and win cool stuff!
Who said affiliate programs are boring? Not yours! Make it FUN!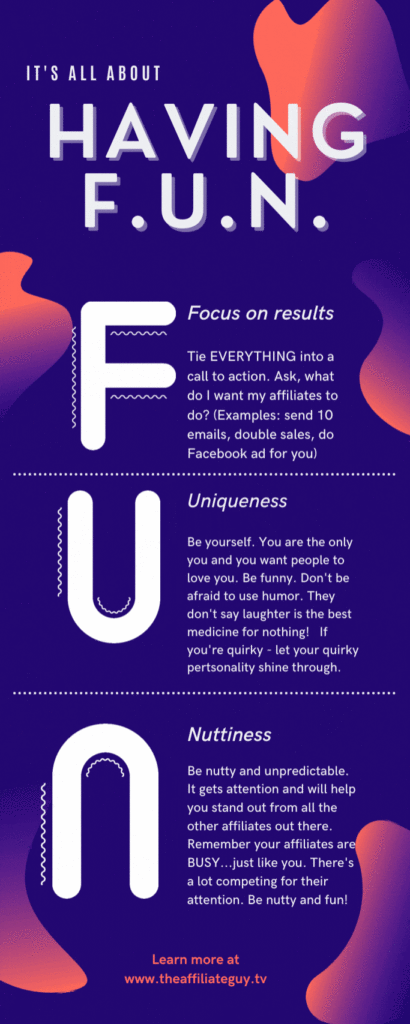 I think you get the idea.
Prize ideas can be "fixed" or "incremental." Fixed prizes are when someone wins. It's not recommended that you start with something like "Top 5 will get X." You may end up spending more in prizes than you get in sales if you haven't much experience with the results your affiliates can bring.
For more tips using this first "C", listen to Matt's podcast episode The 3 C's of Successful Affiliate Programs Part 1.
COMMUNICATE
The second "C" is Communicate. You can't over-communicate with your affiliates if you want to be known as the best online affiliate program. You want to be in their face. All the time. Not communicating ENOUGH is often what keeps you from being on of the top affiliate programs.
But you need a plan.
RESOURCE: Download the EXACT TEMPLATE we give our affiliates to get them to mail more, promote harder and generate MORE SALES.
Use this template for help with when to send swipe, including subject lines, the perfect time to tell them about the prizes they can win, etc. Communicating with your affiliates starts MONTHS out!
11 Ways to Reach Out to Build a Successful Affiliate Program
Give your affiliates "Behind the Scenes" access
Create an community with your affiliates so they feel "involved." You can generate excitement with a quick selfie video – "Hey, so glad for your support! Just a quick update on how things are going here!"
Go overboard on videos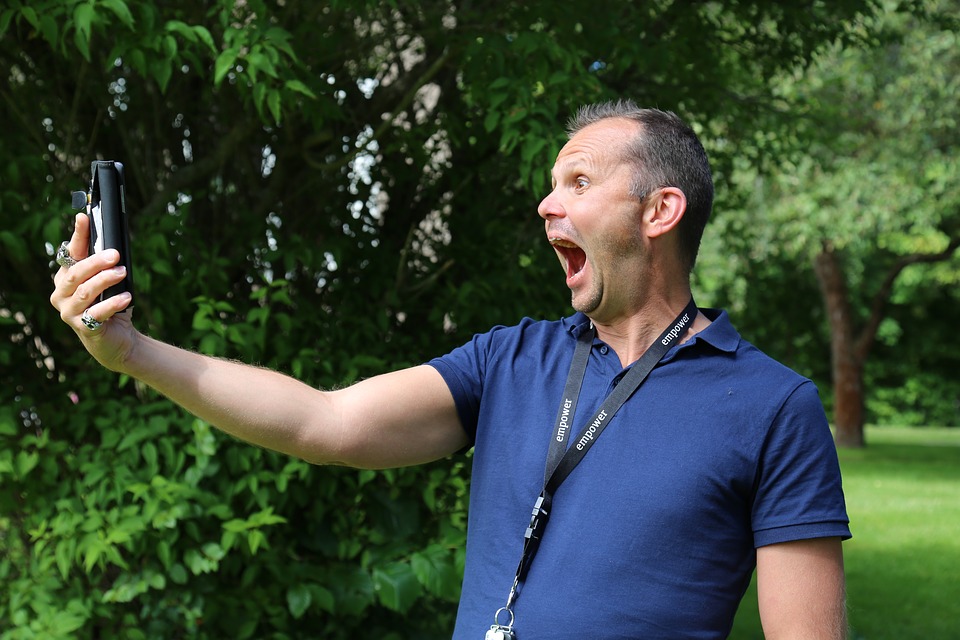 Don't just send email updates or texts. Mix it up with some videos. Use videos to give instructions, be excited, build momentum. You can even use it to give them a reason to do something — like "download this PDF so you can get X."
Have FUN with this! When you are conversational with your affiliates, they will be more connected to you and thankful for your support. This goes a long way to making you one of the best online affiliate program out there!
Hammer Home the Important Dates
Use every opportunity to remind your affiliates of the important dates. You can have a graphic that you can use in multiple places with the critical dates. You want to set your affiliates up for success by not missing a single thing!
Create and share a "Commitment Plan"
We used to call this a promotion plan, but after renaming it "commitment" plan, the psychological shift has made it much more effective! This spells out the details your affiliates can follow. And they will!
FREE RESOURCE: Your very own Commitment Plan. Get your copy now!
You can use this like we do to help our affiliates earn Tens of Thousands of Dollars in commissions!
Announce contest updates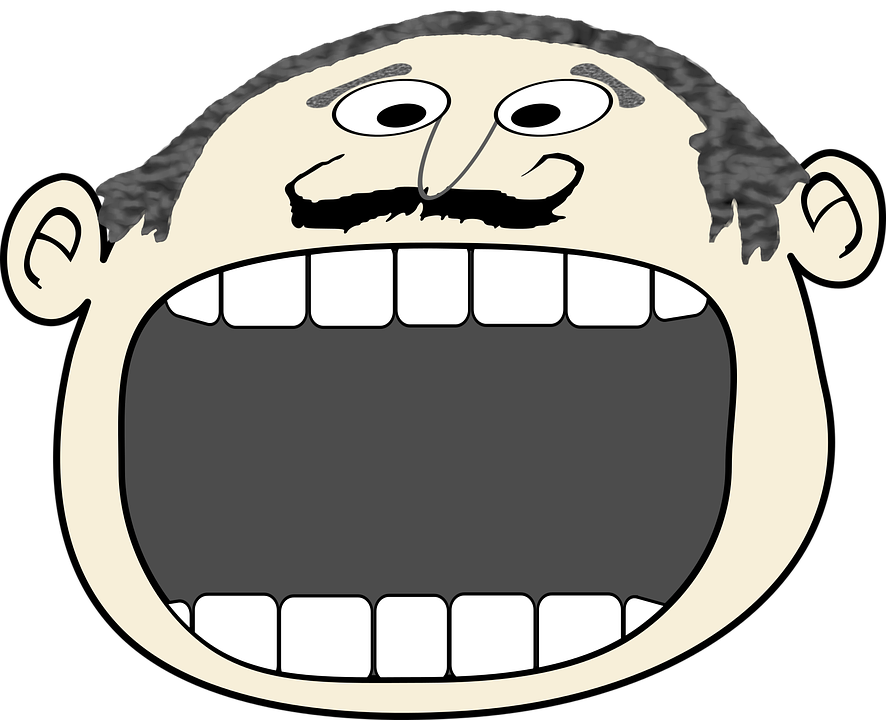 You can build momentum and increase results when you tell your affiliates what great prizes are possible.
Offer Training and More Training and More Training
To build a successful affiliate program you need to be teaching your affiliates best practices. Even seasoned affiliate marketers appreciate helpful tips that are working. Bring solutions and your affiliates will love you! Remember, you're going for a tribe of HOT affiliates who want to promote EVERYTHING you do!
Share Testimonials
Use the Facebook group to share testimonials you get from happy customers. If you know they were referred by one of your affiliates call that out, too! People love to see results.
Excite with Leaderboard Updates
A little clean fun and competition between your affiliates is a good thing. Be sure they know the standings on a regular basis! Again, this is a marvelous way to stay front of mind with your affiliates during the promotion period!
Utilize Facebook Group

You can do fun things in the Facebook group to build community and momentum. Do live videos, have a countdown, use posts to generate engagement in the group. Here's a post idea – ask everyone to post a selfie of their "pre-launch face" — are they excited?
Ask Questions
Do they need anything? Do they have any questions. Reach out to your affiliates periodically and just ask. How can you help them succeed?
Who Has Referrals?
About a month before your best affiliate program launch, ask your current affiliates for referrals. "Who is this program a good fit for?" "Who do they know who could benefit from some extra revenue for promoting this?" You'll want to get new referrals added to your promo schedule pronto!
Send physical "snail" mail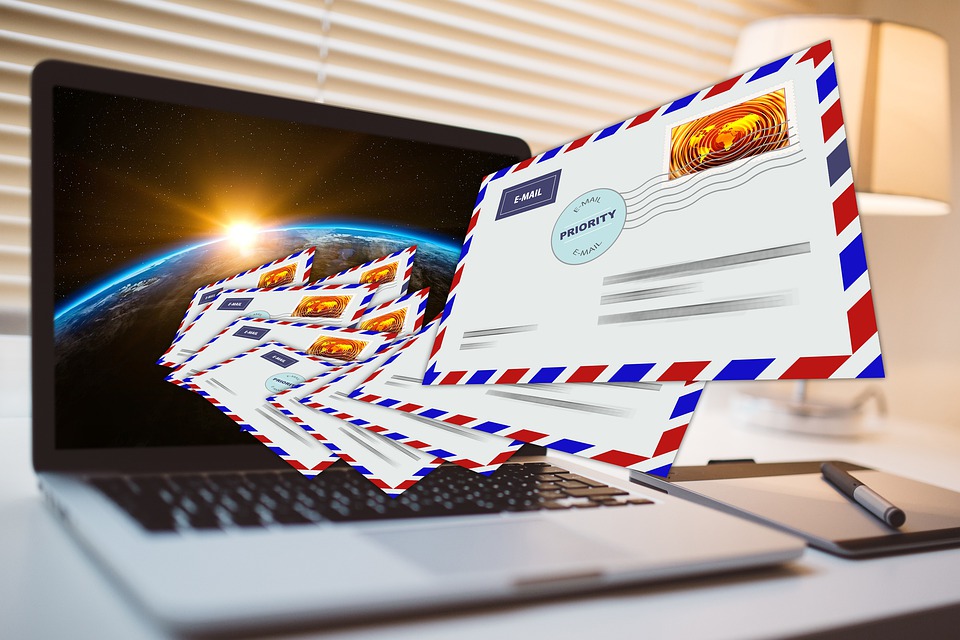 When is the last time you received a surprise in the mail? You can send a swag box of fun items to help your affiliates be successful. You can also send a thank you gift that will help build your likeability. A touch like this can go a long way to set you apart as having the best online affiliate program!
For more tips on the second "C", listen to Matt's podcast episode, The 3 C's of Successful Affiliate Programs Part 2.
COACHING
The final "C" is coaching and this might be the most important. Not many affiliate leaders are doing it, so you will certain stand out as one of the best online affiliate programs. You can increase your sales 20-25% with the right communication, 40% with the right contest, and 40% (or more) with the right coaching!
What do you teach them?
Teach them what's working for you! This is content you know first hand. Provide them worksheets, checklists, any tools that will help them in their affiliate business, even beyond your promotion!
Have a training schedule built in to your launch. Host these strategy sessions for your affiliates to attend where you will: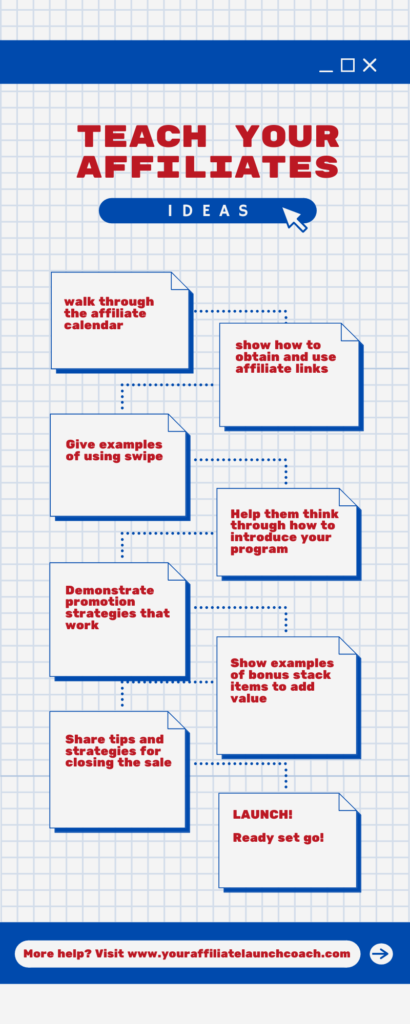 Your training sessions should be between 15-25 minutes of content you teach, but then open it up to the community. They will help each other. Brainstorming sessions can be so helpful. Feel free to set a time limit up to 75 minutes total for the training sessions.
For the whole scoop about this "C", listen in to Matt's podcast. The 3 C's of Successful Affiliate Programs Part 3. He includes a clip to some actual training he did for one of his clients! It's epic!
Now the choice is yours.
If you are ready to have one of the best online affiliate programs out there — Matt and his team are standing by to help you work through the 3-C Method and set you up for the perfect launch!
Reach out today to fill out your application to work with Matt and his team! They help YOU start or grow your affiliate program WITHOUT having to spend thousands of dollars on an affiliate manager!
Matt helps online business owners and brands, small and large leverage the power of partners to grow their businesses. He teaches you how to make money as an affiliate and how to work better with affiliates. Entrepreneurs and companies such as Shark Tank's Kevin Harrington, Zig Ziglar, Ray Edwards, Brian Tracy, Lewis Howes, Shutterfly, Jeff Goins, and Michael Hyatt have trusted Matt to run their affiliate launches.