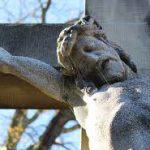 This is it. The moment Jesus was born for.
Are you  mourning for what could have been for Jesus' ministry? What if Jesus had lived for even another year or more? How many more lives could have been changed? How many more people would be following him?
God's perfect plan played out this way. Thousands of years later we still follow Jesus and yearn to know him more. He didn't need to stay on earth longer. His purpose was fulfilled.
Even a Roman soldier, totally unattached from the whole story, said out loud, "This man truly was the Son of God!" Jesus' charge was King of the Jews, yet this soldier could see the truth. It's cool to see who God gave that wisdom to.
We can't tell from this reading whether Joseph of Arimathea was a follower. Why did he want to do something special for Jesus? The "risk" was for his own reputation. What would people think if a council member, one of the ones who had called for Jesus' execution, now wanted the body. Would he lose face or be thought a traitor? Did he have ulterior motives? If so, what would they be?
I would say he was a secret follower, after all he was waiting for the Kingdom of God. He was one who saw the truth, too, that Jesus was of that kingdom. Joseph was part of God's plan in this precious story. A tomb was needed for Jesus to leave empty.
The story is not finished but only beginning.

Let's pray. Lord Jesus I am so grateful to you and the sacrifice you made for me. I have been washed white by your blood and made right by what you have done. What amazing grace. My heart overflows. I am beyond saddened by what you had to endure for me. May my life be a tribute to you. May all my actions reflect you and your love for humanity. Fill me with the confidence I need to be your servant. Thank you for the opportunity to be your hands and feet and the example you have given for me to follow. In Jesus' name. Amen.