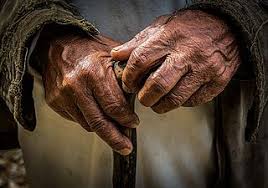 Can you imagine having seen both covered wagons coming across the prairie AND a man on the moon! Talk about a lifetime of experiencing new and sometimes "new-fangled" things. When we respect our elders, we are not only giving honor to the person but to the experiences they lived through. We can see history through their eyes.
For King David, he was especially fond of the elderly man in our story today. Barzillai of Gilead was not only coming now to pay homage and respect to the king, but he had contributed generously to David's cause when in conflict with Absalom. Such charity is always remembered warmly. David was ready to "adopt" Barzillai and bring him back to Jerusalem to care for him. That was truly an honor to be chosen by the king.
King David was also respectful of Barzillai's wishes to return home when he declined the king's offer. Barzillai did have the best interest of his son, Kimham in mind, as any loving parent would.
How have you shown respect to someone older than you lately?
I remember when my grandparents were gone from this earth. I felt like I had lost a piece of my own precious history. And then I lost my mom. Twenty-eight years ago today, as I write this reflection. How I would have loved to have more years with her to share some of the life milestones I have experienced. She was just a year older than I am today. She didn't get a chance to grow old. I miss her but know she is with Jesus!
I've always cherished moments with elderly loved ones over the years. The stories they have shared and the positive encouragement they have given will not soon be forgotten.
Most recently, I spent a portion of four days with my father, now 87 years old. Talk about a fantastic storyteller. He was in sales for most, if not all, of his working life. I was hearing stories I've never heard before. I'll treasure those memories.
Just today in a networking group I'm in, we had a great discussion about the questions we'd love to ask our parents (if they were still alive). We lamented together about lost opportunities and really hope that the younger generation isn't as so "inner-focused" that they forget to collect all the gems they can from those older adults in their lives.
Take some time today to think about who your elders are. How can you be a blessing to them today, this week, this month?

Let's pray …
Thank you for the faithful people you have put in my path, Lord. Help me to be attentive to their stories, experience, and wisdom. May I be that shining light to those coming behind me. Continue to pour into me, drawing me closer to you every day. In Jesus' name. Amen.