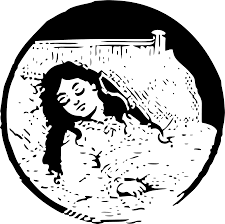 The joke was on the Philistines, so to speak. They thought by capturing the Ark they would have God's power. Instead, they are being overtaken by plagues and death. God's power was as strong as ever, but it was not working in their favor as they had hoped.
What did you think about how God handled Dagon? I nearly laughed out loud when I read how the inanimate statue of Dagon was found face down, as if bowing to the Israelite God. This was clearly a message from God that was almost ignored the first day.
In talking with other believers, many of us have stories that would indicate God has a sense of humor. One such occasion involves my husband's retirement as pastor in the United States. We had a very nice send off from our last congregation in Iowa. In Mexico, David planned to be only the guitarist in the praise band, if we could find a church with that need.
It was only after playing with a praise band for about a year when the pastor, our dear friend, announced his own retirement. He would also be leaving Mexico. Guess who has been pastoring our mission congregation ever since? I sense that God winked at us!
But in our story today, God's response was serious. He was sending a message, and the Philistines began paying attention after being struck with a plague of tumors. It was not an isolated event. It happened in both the towns of Ashdod and Gath.
Fear was sweeping the Philistine communities. Nobody wanted this ark now. "The people summoned the Philistine rulers again and begged them, "Please send the Ark of the God of Israel back to its own country, or it will kill us all." They wanted to get rid of it. But how? Everyone was afraid of it.
We have a bit of a cliffhanger in today's reading, but let's just sit with this for a bit. What is going on in your life right now that is bringing a sense of dread? Certainly, as we've been living through a pandemic there have been plenty of emotions swirling around. How are you responding?
There will always be uncertainty in life. We don't want to be like the Philistines and underestimate God's power or misunderstand it. Spending time with God in his word and getting to know him through prayer and meditation will help us not only feel a sense of peace, but we'll get to know the God who is crazy about us.
Take some time to just be still in God's presence and thank him for his peace. Isaiah 26:3 says, "You will keep in perfect peace all who trust in you, all whose thoughts are fixed on you!"

Let's pray …
Lord, I am so grateful for how you have blessed me in my life. Each time I feel afraid and unsure, help me remember to turn to you, cling to you if I have to. Thank you for the perfect peace I have when I focus on you. Calm my heart and help me focus on your love for me. In Jesus' name. Amen.