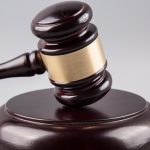 Jesus is on trial, but what a laughable trial.  No preparation, only jealous rage. So much perjury. But, I suppose you can't lie under oath if you don't swear an oath in the first place. Where did all these witnesses come from? And, when truth was spoken by Jesus, it was deemed blasphemy. Jesus was in no way insulting God, his Father!
How does it make you feel to knowing how our Lord spent his final hours on earth? He warned us, as the prophets had, it wouldn't be pretty. Despite the heads up, it's still hard to imagine.
Meanwhile, the text says, Peter was sitting outside in the courtyard of the very house where Jesus was being assaulted. It sounds like he just sort of cozy-ed up to the guards to keep warm by the fire. Did he think he'd go unnoticed? What was he thinking? That could be the topic for a whole devotion in itself.
Then it happened. Jesus' prophetic words came true. Peter must have had an evil spirit overtake his words on his final, very strong, denial of being associated with Jesus. Almost like a dream where you see yourself saying or doing something, but you're only watching from a distance. But it wasn't a dream. Jesus was right. Peter denied him and the despair at the thought left him sobbing.
Have you ever had a moment like Peter just did? Have you said or done something for which you would give anything to take back? Maybe you've wished for a do-over? We've all done those things. And, we all sin and fall short of the glory of God. It happens, yet we don't like it.
God doesn't either, and that's exactly why he sent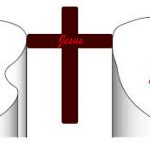 Jesus to die for us. Jesus is the bridge that brings us back to the father when we are separated by our sin.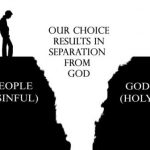 It's better to focus on what God is doing for us, loving and forgiving us, then to dwell on the bad stuff. Ask for forgiveness, and be done. Forgive others, and be done. Simple but not easy.
Do you feel separated from God right now, or are you on fire and burning bright? Maybe somewhere in between? Doesn't matter. God's got your back. Relish this true with a grateful heart.

Let's pray. Lord I don't like when I feel apart from you but I know that you are always there to reel me back in. Forgive my heart when it is selfish and self-serving. I don't want to be caught up in the world's trap. Restore my servant heart. May it beat along with yours. Guide my steps this day, and I thank you for your protection. I am safe in your arms, and safe as I fall at your feet. What peace you give. May I spread your peace in this world for you. In Jesus' name. Amen.