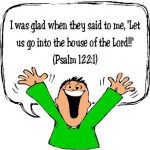 I like how David starts this psalm, "I was glad when they said to me, "Let us go to the house of the Lord!" He was glad. When is the last time you felt "glad" about something?
David's heart was so in tune with God. The very thought of going to God's house, in this case the temple in Jerusalem, made him glad. He was happy to go. Do we have that same excitement about going to worship in our own church? If not, what is holding us back from unleashing pure joy at being in God's presence?
Did you notice his word choice here, "let us go", not just "go". That would seem to infer the privilege of being able to worship our God. That is a freedom we often take for granted. Many people around the world do not have that freedom to be open about their allegiance to Jesus. You may even know someone that is currently hiding their faith. How they must wish they were able to go and worship publicly. That would certainly make them glad.
We often lose sight of what is important. It is not so much the "where" we worship, but it is certainly about the "who". Who are we worshiping? What does our worship look like? Have we lost that joy that comes with the privilege of being in God's presence together with other believers? Search your heart today for a true answer to these questions.

Let's pray. Lord, you are a mighty God. It is such a privilege to know you and sing praise to you. I do get giddy when it's time to lead worship. To feel your spirit coursing through my veins is a feeling of contentment and joy I can't put into words. It is the perfect time of communion with you, our hearts are as one. I thank you for letting me have those times and look forward to the next opportunity. I pray for those who do not know you. May my life be such a reflection of you that those lost souls see you and can be rescued by you. In Jesus' name. Amen.