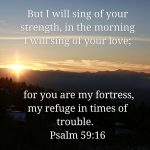 Do you feel like you've read this before? The psalmist is really feeling overwhelmed with fear of attack.  Do you know anyone that is struggling with paranoia or fear?  I am sure this psalm will resonate with them.  The imagery of vicious dogs prowling and scavenging can really give you a vivid picture of the fear the writer was feeling.  Maybe terror is a stronger word more fitting.  Have you ever been terrified?
Many people ask me if I feel safe since moving to Mexico.  I would have to say I feel as safe here as I did in the U.S.  You will find evil everywhere you go.  The important thing to remember is who your protector is. God's love is our only true defense in this world. While I can't imagine the fear the psalmist is encountering, I do feel a sense of dread or uneasiness when faced with conflict.  I'm a people pleaser and never want there to be conflict around me, but we're human, so there will be conflict.  In those times, I need to lean on God trusting him to provide. I am strong with the strength of God.
The first step to facing our fears is to be open to the fact that we are children of God. Once we realize and accept this truth, we should be able to boldly take a stand against that foe, we can be transformed and freed from our chains.
Enjoy a song by Chris Tomlin here. Also, scenes from the movie "Amazing Grace".
Let the words of 1 Peter 5:6-7 resonate with you today.  "So humble yourselves under the mighty power of God, and at the right time he will lift you up in honor. Give all your worries and cares to God, for he cares about you"

Let's pray.  Father God, thank you for being our protector, our friend, our guide.  Help me to always give you the honor in the way I live my life. Help me to let go of any feelings of doubt or shame or fear. Fill me with the assurance that I am yours and your strength for me is sufficient.  Lord forgive me when I try to do it all on my own.  Reel me in and may my eyes be on you.  In Jesus' name.  Amen.