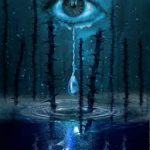 Oh my! What sorrow awaits is most certainly true! I think it's an understatement to say that Jesus' words "hurt" those religious leaders. Those words should have shaken them to the core of their beings. Yet, they did not understand. Woe to them.
Jesus totally called them out. I wonder if any meal was shared? Could it be that Jesus left with an empty stomach? That's certainly not the issue here. He did give them their fill, however.
Do you have a bit of a Pharisee heart? You may need to read the passage again.
When Jesus talked about the filth on the inside, I couldn't help but think about all the evil in the world. We so often carry thoughts of greed, envy, jealousy around with us. We think that our neighbors must have it all together – they look so good. Don't you suppose they are thinking the same of us? What was Jesus' solution? "So clean the inside by giving gifts to the poor, and you will be clean all over." Get over it. Help others, don't harbor those evil thoughts and desires.
How else might we be falling short? Let's take a look.
Are we ignoring justice and the love of God? There is so much unfairness in our world today. Living in a developing nation has really opened my eyes. There is even still evidence of a caste system here. That is something that will only slowly, over generations, continue to dissipate. The big question is how are we treating our fellow man? Are we loving our neighbors with the love of God?
There is the issue of honor. Are we more interested in our own glory rather than honoring God? That might hit home for a lot of people climbing the corporate ladder or looking for some sort of recognition for a job well done. If we honor God in all we do, success should be celebrated. I even try to honor him while doing the chores. That might seem a little odd, but when I think of chores as a God honoring activity, I'm more likely to enjoy and make them a priority. You should try it!
How do we relate to other Christians and Christian leaders? Many are being persecuted around the world. Personally, I have never felt afraid for my life because of my faith. If put to the test, I would surely stand firm. That's easy for me to say as things are calm. What if my life or the life of my loved ones was at stake? I pray for conviction. I pray for those who persecute that they might repent and be saved.
It wasn't clear to me if Jesus was thrown out of the dinner party, or left on his own accord. What is in evidence here is that the Pharisees and other guests were not happy. They even became "hostile." Jesus had not made any friends at dinner this night. That was not his intention. Sometimes tough love is what it takes. Sometimes people's fate is sealed no matter who the messenger is.
The important thing for us is to continue to be a messenger. No matter what. Don' be thwarted by resistance. Jesus knows how it feels. He will give you the words, the strength, the wisdom. Just ask him.

Let's pray.  Lord Jesus, again I thank you for your unshakable love for me. Forgive me when I stumble. It is my desire to stand firm and claim you as my Lord and Savior every moment of my life. In the face of persecution, should that day come, I ask for that strength and conviction to be multiplied. Help me in reaching those in my circle of influence. May I be a shining beacon giving others the hope they need. Guide my steps, my tongue, my heart. In Jesus' name. Amen.